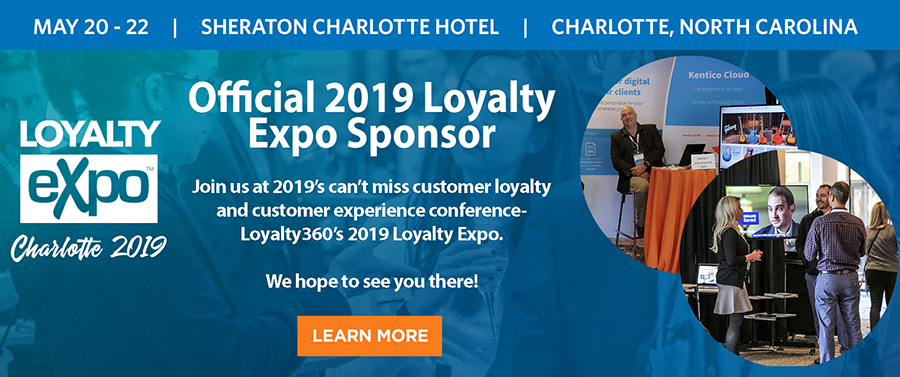 15 May

Loyalty Methods Roars into Loyalty Expo Primed to Build and Support the Future of CX Solutions

May 15, 2019. Seattle-based Loyalty Methods will participate as a Silver sponsor at this year's Loyalty Expo, in Charlotte, North Carolina, an event hosted by Loyalty360. Loyalty Methods delivers value with three essential services that help its customers strengthen the bonds between their customers and their brand: CX Strategy, Platform, and Integration.

As it has for its 12-year history, for such companies as Starbucks, Southwest Airlines, and Alaska Airlines, Loyalty Methods deploys its uniquely deep and broad expertise to help companies analyze their current programs, identify ways to differentiate them and create an executable project strategy to implement a winning CX solution.

Loyalty Methods will also introduce their cloud-native CX platform, ReactorCX™, as the foundation of their platform service. After twelve years of in-depth and hands-on experience in building creative CX solutions, Loyalty Methods has developed next-generation CX features that allow companies to enjoy the benefits of real-time interactions with their customers.

ReactorCX™ is built on a scalable big data technology stack and leverages an adaptive integration layer to enable quick and easy multi-channel solutions that integrate well within any infrastructure. ReactorCX™ supports cutting-edge CX strategies with such advanced components as a fully configurable, real-time loyalty engine; a real-time offers and rewards engine; and flexible analytics dashboards.

Loyalty Methods' mission is to help companies build and support large-scale customer experience solutions; to do it safely, simply, quickly, and elegantly. Throughout its history, it has achieved a 100%-success rate in delivering solutions, at companies such as Starbucks, Southwest Air, Alaska Air, Century21 Stores, and Holland America.

Loyalty Methods is based in Seattle, with offices in Dallas, Hyderabad, India, and London providing CX solution services to Fortune 500 organizations.